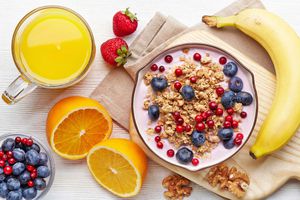 Prvo sto mi padne na pamet, a vezano je za dorucak je to da bude domaci, zdrav dorucak, po mogucstvu potreban je brz i jednostavan recept za dorucak, jer uvek negde jurimo, zurimo. Naravno tu su i malo jaci, hranljiviji obroci koje redovno pripremam jaja sa slaninom ili domace lepinje sa kajmakom i prsutom, proju sa sirom ili proja sa spanacem. Jela od starog hleba, przenice ili prepecen tost hleb premazan nekim omiljenim ukusom. Na stolu za dorucak se nadju i pahuljice, kao sto su ovesne pahuljice koje imaju mnostvo hranljivih materija, a to je prilicno jednostavan i lak obrok.
Spanac, jaja i feta sir recept za dorucak
3 jaja
1 solja spanaca
1 kocka feta sira
maslac, so i biber po ukusu
Za ovaj fini dorucak potrebna su nam jaja, spanac, feta sir, malo maslaca, so i biber. U posudi kombinujte jaja, fetu sir, so i biber. Mutiti dok se jaja ne razbiju. U tiganj staviti maslac na umerenu vatru. Kada pocne maslac da peni dodati iseckan spanac, mesati i prziti 5 minuta. Zatim dodati mesavinu jaja i sira, prziti uz povremeno mesanje dok jaja ne dostignu zeljeni izgled i lepo se ne uprze.
Iskoristite sezonu spanaca za razna jela, spanac je veoma zdrav i bogat proteinima.
To be informed of the latest articles, subscribe: